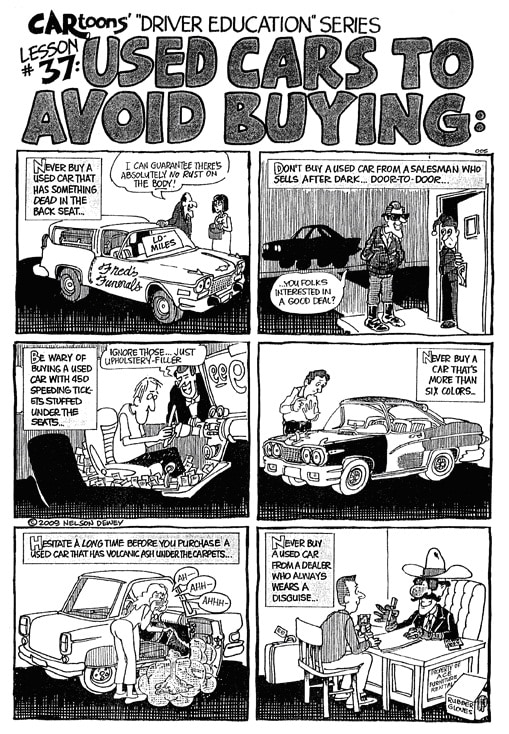 When deciding to buy a used car, have you ever felt like you just decided to buy someone else's problems? I know I have.
Well, before the invention of vehicle history reports, such as CARFAX, it was relatively impossible to know if you were in fact, buying someone else's problems until the problems had become yours. So, besides following the basic steps for car buying outlined in "How to Buy New Cars in Massachusetts", a used car buyer should ALWAYS run a CARFAX report on the vehicle(s) of their choice. It is easy, and usually free via the dealer's website or asking for it in the dealer showroom. If you are interested in a car and the seller is hesitant or refuses to show you a CARFAX, then you may want to go online and purchase the report for yourself. Kelly Auto offers free CARFAX reports for all of our pre-owned vehicles on our website, and at the dealership.
But how important is a CARFAX Report? Let me put it this way, buying a used car without knowing its history is like signing a contract without reading it. Thus, the benefit of CARFAX is to report information about a vehicle's history that may impact a consumers buying decision. The types of information that you will find on a CARFAX Report are:
Title problems
Ownership history
Accidents and Service
Let's take a look at what these three umbrella issues cover?
1. Title Problems
Your CARFAX Report will inform you if the vehicle has a state-issued salvage brand. A salvage brand is given to cars that have been in severe accidents and have been salvaged by the state, and is actually branded on the title, like a scarlet letter.
More often than not, cars with flood damage will be transported to and sold in other states to unsuspecting buyers. Flood damaged cars can be very dangerous to drive, and your CARFAX report will inform you if the car you are researching has a flood damaged title issued by any state Department of Motor Vehicles (DMV).
Odometer problems are reported and odometer rollback checks are performed to protect you from odometer fraud. When a vehicle that was originally purchased brand new is bought back by the manufacturer because of repeated unresolved problems, the state will classify the vehicle as a "lemon" and will be branded as such.
2. Ownership History
CARFAX can estimate the number of owners based on all of the records in a vehicles history. Look for the CARFAX 1-Owner Vehicle emblem on your CARFAX Report.
Was the car ever a rental car or part of a commercial fleet? If so, it could affect the car's value. Your CARFAX report will determine if the vehicle had been registered with a rental company or as a fleet vehicle or commercial vehicle.
CARFAX will report the average miles driven per year and the last reported odometer statement to insure that you know why the miles may be higher than average, and how it affects the value and cost of ownership.
3. Accidents and Service
Declaration of total loss by an insurance company will be reported on a CARFAX Report. Sometimes an insurance company may declare a vehicle a total loss even if there is no salvage title by a state DMV.
If the airbags in the car have ever deployed, they must be properly replaced. Your CARFAX will inform you of previously deployed airbags so that you may check the service history, and have the airbags inspected by a mechanic.
CARFAX will show any frame or structure damage in the car's history. Even the smallest of accidents can cause serious and potentially dangerous damage.
And finally, service records. CARFAX reports all service records all the way down to the simplest of services-like an oil change. This will help you determine whether the vehicle was maintained properly.
So, no matter how pretty a used car may look, the CARFAX history report may expose some things that are far less appealing. A little research can go a long way, and save you a lot of money, embarrassment, and time?
Until next time, see you in the showroom