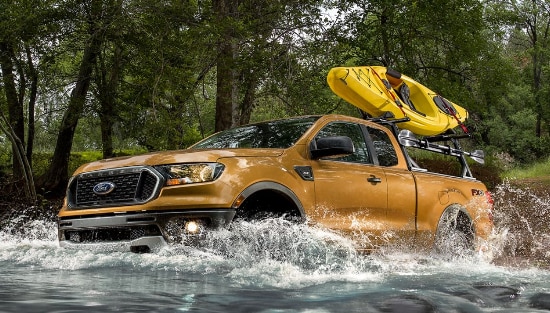 As of this week, the Ford Ranger has made its return to U.S. dealerships as the most fuel-efficient gasoline-powered pickup truck on the market.

According to Automotive News, the 2019 Ranger will get 21 mpg city/26 highway/23 combined. This combined figure ties the Chevrolet Colorado diesel engine's 23 mpg, but outranks the other midsize pickups with gasoline engines.
The decision to equip the new Ranger with a one-choice-only turbocharged four-cylinder engine has paid off in EPA ratings. According to Car and Driver, the Ranger's official fuel economy estimates applies to both the extended-cab and crew-cab models. Both models are available with a turbocharged 2.3-liter four cylinder engine which makes 270 horsepower and 310 lb-ft of torque.

Ford Truck Group Marketing Manager, Todd Eckert said, "Midsize truck customers have been asking for a pickup truck that's Built Ford Tough. And Ranger will deliver with durability, capacity and fuel-efficiency, while also providing in-city maneuverability and the freedom desired by many midsize pickup truck buyers to go off the grid".

Most people will opt for a four-wheel drive truck. According to automotive website The Drive, that's okay, because the numbers there are solid. The FWD Ranger delivers 20 mpg in the city, 24 mpg on the highway, and a combined rating of 22 mpg.

Pricing for the 2019 Ranger starts at $25,395.
Shop our 2019 Ford Ranger inventory online today!