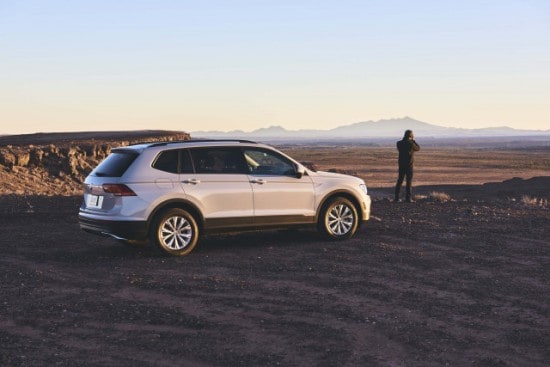 Photo Credit The Car Connection
Ever since
Volkswagen
came out with the midsize SUV, the
Tiguan
has continued to attract customers over the years. After being released by VW in 2009, the SUV has transformed itself into your everyday compact crossover.

Size:
Since getting its new look in 2018, the Tiguan has gone "big." By big we mean literally stretched out. The rear seats offer better space for both kids and adults as well as better leg room. According to the Car Connection, the spacious interior is what stands out the most in the 2019 Tiguan. This year's version splits the difference between compact and mid-size crossover SUV.

Interior:
One feature that is well noted is its comfortable ride. The interior includes V-Tex leatherette seating surfaces which is easy to maintain as well as stylish. The panoramic sunroof blends seamlessly into the cabin, allowing plenty of sunlight and fresh air inside. In addition to cabin space, Car Connection gives it an 8 out of 10 in comfort & quality.

Performance:
Smooth and responsive on paved roads, the 2019 Tiguan remains confident despite any challenging surfaces it may come across. With 4MOTION all-wheel-drive, power is distributed between the front and rear wheels as needed to help optimize traction and stability.
For you New England-ers out there: Snow Mode is perfect for those long Winters. In Snow Mode, the engine can upshift earlier, which helps keep it in a lower RPM range and helps prevent too much power from going to the wheels too quickly.

Trim and Price:
The 2019 Tiguan is available in 12 trims and eight exterior colors. As far as pricing goes, the base model (the S) starts at $24,295 and the highest trim (SEL Premium) starts at $38,895.

With Winter coming around the corner, now is the perfect time for you to hop in the 2019 SUV.



Browse our 2019 VW Tiguan inventory online today!