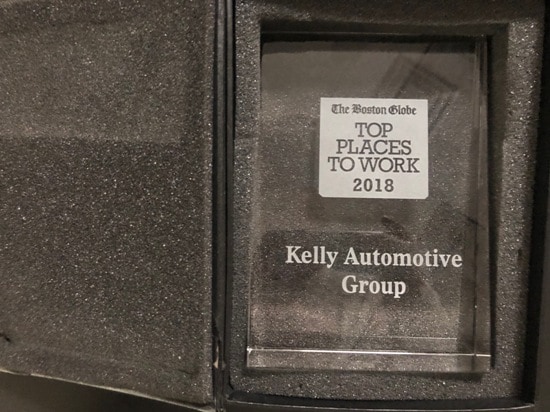 Once again, Kelly Automotive Group has been named a Top Place to Work by the Boston Globe
Each year,
The Boston Globe
releases their list of The Top Places To Work in the state, highlighting local businesses who are well-respected in the communities around them. For 2018, there were 128 organizations in
Massachusetts
selected as Top Places To Work from surveys of more than 82,000 workers.
This is the
third consecutive year
that
Kelly Automotive Group
has been included on this prestigious list.
"To be named as a Top Place To Work once again in 2016 is truly an honor. It affirms the Kelly Automotive Group philosophy of taking care of our employees, who then in turn take care of our customers," said Brian Heney. "We'd like to thank The Boston Globe and our employees for this outstanding achievement."
​Congratulations to the entire Kelly Automotive Group on once again being named as a top place to work for in Massachusetts.