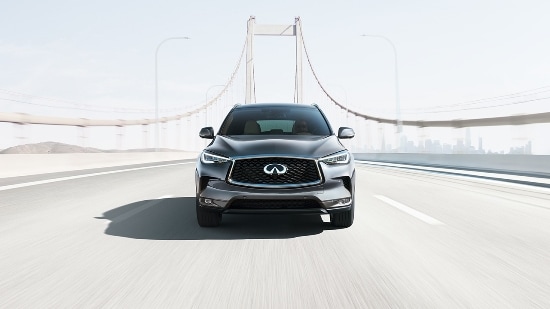 The 2019 QX50 shown in Graphite Shadow. Photo Credit INFINITI
When you are in the market for a new SUV, you will often find yourself debating between a couple of different brands. Questions such as gas mileage, safety, and of course price will all come to mind.

Starting at $36,550, the 2019 QX50 blows its competitors out of the water in several different areas. The QX50 has the highest fuel economy (for city/highway) than the Audi Q5, Acura RDX, and the Lexus NX 300. You will also find that the QX50 comes with a Variable Compression Turbo Engine, which other similar SUVS do not have. By delivering a combination of power and efficiency, the 2.0L 4-cylinder engine is like having two engines in one.

The 2018 Lexus NX 300 is a direct competitor of the 2019 INFINITI QX50. The QX50 outranks the NX 300 when it comes to horsepower, torque and MPG. You will also find that the interior goes above and beyond its contender as well. The redesign of the QX50s cabin means more room for passengers and cargo. The sliding rear seat offers up to 38.7 inches of rear seat leg room-top in its class.

Adaptive Steering is another feature that you will find on the 2019 QX50. This feature eliminates the kickback of conventional steering systems. By having up to 1,000 steering adjustments per second, the QX50 is able to instantly transform driver input into one of the smoothest experiences around.

You can find the 2019 QX50 in three trims: PURE, LUXE and Essential.
Shop our 2019 INFINITI QX50 inventory today!