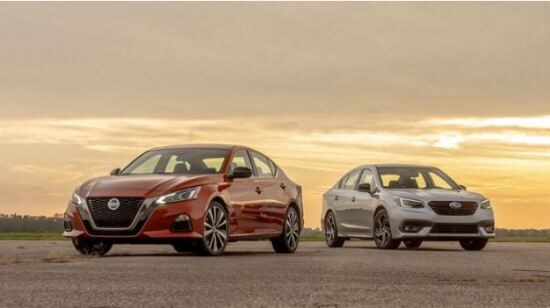 The 2020 Nissan Altima AWD and the 2020 Subaru Legacy AWD. Photo courtesy: Cars.com
There are two things that both the
2020 Nissan Altima
and 2020 Subaru Legacy have in common.

They are both considered mid-size sedans and offer all-wheel drive (AWD).

For many people, having AWD available to them is an important factor when buying a car. Subaru has built their brand on having AWD by including the "Symmetrical AWD" badge on nearly all Subarus. They have also proclaimed the advantage of having the particular drive train evident to its consumers.

According to Cars.com, the 2020 Nissan Altima, which now offers AWD, might be the better pick out of the two vehicles.

Both vehicles were recently redesigned. The Altima, which was fully redesigned for 2019 model year, began offering AWD in 2018. In addition to the new drive train, the Altima was given more technology as well as a bolder look. For the 2020 Altima, Nissan expanded the availability of Nissan Safety Shield.

While both the Altima and Legacy have similarities as far as specs go, the Altima overpowers the Legacy with 182 horsepower and 178 lb-ft of torque.

As far as testing metrics go, the Altima beats the Legacy due to better use of its engine at the test track with a 7.4 second run from zero to 60 mph, beating the Legacy by 0.6 seconds. The editors at Cars.com found that the Altima proved to be more efficient, averaging 31 mpg to the Legacy's 28 mpg.

Overall, the 2020 Nissan Altima is the winner here. The sedan has an overall better look, accelerates better, and uses less fuel. While the Subaru brand boasts about having AWD on all their models, at the end of the day, the Altima would still be favored over the Legacy, with or without AWD.

The AWD option is simply an added bonus to an already great mid-size sedan.



With Veteran's Day coming up, now is the time to go online or visit us at either Kelly Nissan of Lynnfield or Kelly Nissan of Woburn for a great offer on the 2020 Nissan Altima!