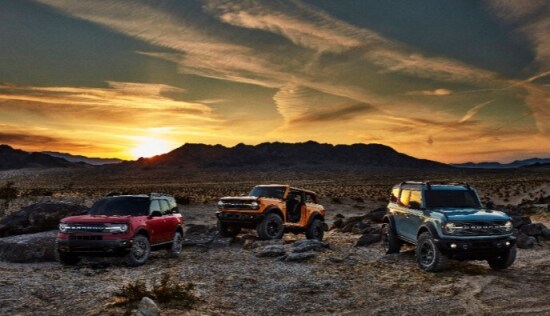 The 2021 Ford Bronco has made its grand entrance.

Ford has unveiled the new SUV and we would not be more excited. The 2021 Ford Bronco returns as the flagship of a new all-4x4 family of rugged SUVs, with a classic two-door and a first-ever-four door. The SUV, which has been highly anticipated, now has a face to go with it.

"Built Wild" is the brand for the new Bronco, and it is ready to deliver thrilling experiences with its heritage-inspired style., engineering and smart off-road technology, plus innovative features to help outdoor enthusiasts create adventures in the most remote corners of the world.

"We created the Bronco family to elevate every aspect of off-road adventure and equipped them with class-leading chassis hardware and exclusive technologies to raise the bar in the rugged 4x4 segment and take people further into the wild," said Jim Farley, Ford chief operating office. "They're built with the toughness of an F-Series truck and performance spirit of Mustang-and come wrapped in one of the most stunning and functional off-road signs that's true to the original Bronco design DNA."

There is something for everyone in the 2021 Bronco. There's a turbocharged engine churning out 310 horsepower and 400 pound-feet of torque for the power-hungry. There are up to seven driver-selectable modes including Normal, Eco, Sport, Slippery and Sand, with Baja, Mud/Ruts and Rock Crawl for off-road driving.

Similar to the first-generation Bronco, also known as G.O.A.T., the mission of the all-new Bronco is to deliver maximum 4x4 go-anywhere, anytime capability and confidence. The Bronco incorporates off-road mapping and drive technologies to give adventurers as much fun as hard-core off-road experts, while its Built Wild durability makes for a lasting performance in the harshest conditions for generations to come.

"Bronco's advanced four-wheel drive technology is at the core of its off-road capabilities, and at the heart of its all is Bronco's exclusive Terrain Management System with G.O.A.T. Modes that is designed to help drivers better navigate any type of terrain," said Mark Grueber, Bronco consumer marketing manager.

According to CNBC, The Bronco Sport will be powered by a 1.5-liter EcoBoost engine with a targeted 181 horsepower and 190 pound-foot of torque or a 2.0-liter EcoBoost engine powered with a 245 horsepower and 275 pound-feet of torque. Both engines are paired with an eight-speed automatic transmission.

The Bronco Sport is expected to arrive in dealerships by the end of 2020, followed by the Bronco in spring of 2021.


Reserve Your 2021 Ford Bronco Today