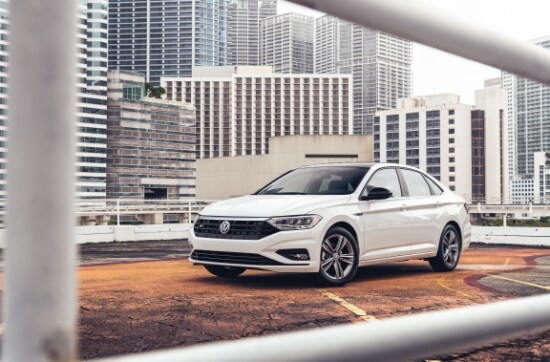 Similar to the 2020 Volkswagen Tiguan, there is a lot to like about the 2020 Volkswagen Jetta. Volkswagen continues to highlight some of the most prominent features on some of its best-selling cars. Here are some of the highlights of the Jetta.

Most Affordable New 2020 Volkswagen

That's right. The 2020 Jetta has a starting MSRP of $18,895 for the S trim and is the only model with a starting price that is under $20,000 in the U.S. market. That price includes standard equipment such as 16-inch aluminum-alloy wheels, LED headlights (including daytime-running lights) and tailgates, automatic headlights, front Comfort seats with 6-way adjustable driver's seat and VW App-Connect.

Highest EPA Estimated Fuel Economy

The 2020 Jetta is powered by Volkswagen's 1.4-liter turbocharged and direct-injection TSI engine, making 147 horsepower and 184 pound-feet of torque. The 16-valve engine has the ability to generate peak torque at just 1,400 rpm, while at the same time returning EPA-estimated fuel economy of 30/40/34 mpg (city/highway/combined) regardless of transmission choice-six-speed manual or eight-speed automatic.

Digital Cockpit

While the Atlas and Tiguan were the first models to debut the adjustable digital gauge cluster, the 2020 Jetta was the first to receive the fully customizable version of Volkswagen's Digital Cockpit. Whereas the 2018 SUVs had seven preset dial configuration to choose from, the updated system offers 21 possible views, with each dial being customized for your choosing. The 10.25-inch display is fitted on either side with fixed gas and engine temperature gauges and allows a full-screen map (if equipped with navigation).

Kessy Auto-Close

On the Jetta SE and above models, there is the available feature known as KESSY keyless access and push-button start. The feature makes locking and unlocking the doors a breeze-just approach the car with keys on you (or in pocket or purse) and touch the sensor on the door handle to unlock, and retouch the sensor on leaving to lock. The overall best part? If you get out and realize that you forgot to close the windows or sunroof, a long press on the sensor will close them without turning the car back on.