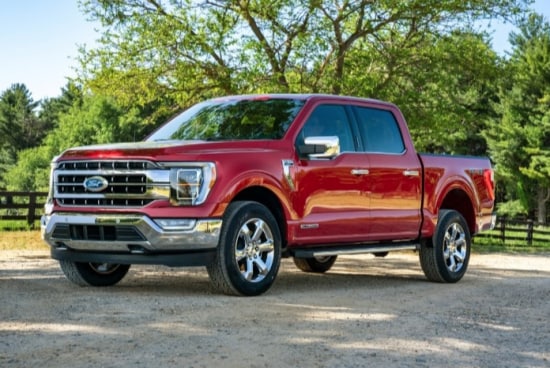 America's favorite pick-up truck gets a redesign.

The 2021 Ford F-150 was revealed to the world yesterday, and we could not be more excited. The new F-150 is the toughest, most powerful, and productive in its class. For those who are seeking out that "Built Ford Tough" look and feel, the 2021 F-150 certainly fits that description.

"Since 1948. our hardworking F-Series customers have trusted Ford to help them get the job done," said Jim Farley, Ford's chief operation officer. "F-150 is our flagship, it's 100 percent assembled in America, and we hold ourselves to the highest standard to make sure our customers can get the job done and continue to make a difference in their communities."

The 2021 F-150 takes work and recreation to a whole new level, targeting to deliver the most maximum towing, payload, torque and horsepower of any full-size light pickup. One of the most significant updates is the new PowerBoost hybrid powertrain. Going off of Ford's existing 3.5-liter Ecoboost V6, this will be the industry's only full hybrid pickup in the market.

The system integrates a single 35-kilowatt (47-horsepower) electric motor into the transmission housing backed by a liquid-cooled, 1.5-kilowatt-hour lithium-ion battery pack. Instead of it being a plug-in hybrid system, the PowerBoost is a self-charging deal that incorporates a belt-driven starter.

For towing purposes, the 2021 F-150 will deliver 12,000-pounds-plus of towing capacity, and a targeted EPA-estimated range of approximately 700 miles on a single tank of gas.

Now, what makes the 2021 F-150 the most productive one ever? For starters, Ford made it so owners can use their trucks as a mobile workspace. They designed a center console that has a fold-down gear lever and armrest that flips forward to turn into a flat surface. A WiFi hotspot, wireless smartphone charging pad, wireless Apple CarPlay and Android Auto integration, 8-inch and 12-inch Sync 4 infotainment screens and a digital instrument cluster are also available.

The all-new 2021 Ford F-150 will arrive in dealerships in the fall.


Shop the 2020 Ford F-150 today at Kelly Ford