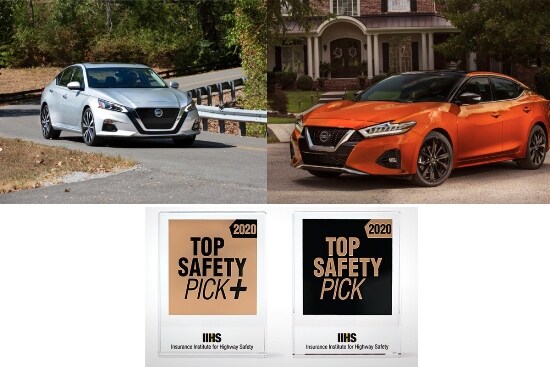 The 2020 Nissan Altima (Left) and the 2020 Nissan Maxima (Right)

For the fifth year in a row, both the Nissan Altima and Nissan Maxima have taken home a Top Safety Pick and Top Safety Pick + by the Insurance Institute for Highway Safety (IIHS). Both vehicles took their usual spots atop the Midsize Sedan category.

The 2020 Nissan Altima, which has expanded the availability of Nissan Safety Shield across the entire lineup, has been a Top Safety Pick or Top Safety Pick + every year since 2013. The 2020 Nissan Maxima is one of just 23 vehicles to be named a Top Safety Pick +, which is the highest possible IIHS award.

Highlights in the 2020 Altima include a spacious, comfortable interior and strong engine options. Ranked #4 in the Midsize Cars category, the Altima has an impressive safety rating of 9.4 by U.S. News and World Report. The Top Safety Pick award only applies to vehicles with optional front prevention and specific headlights.

The 2020 Nissan Maxima provides a long list of features, such as a panoramic sunroof and surround-view parking camera system, features which are now standard on the SR trim. As far as safety goes, the Maxima has a 9.9 safety rating, a score based on both the IIHS crash test ratings and the National Highway Traffic Safety Administration ratings.


In addition to earning both a Top Safety Pick and a Top Safety Pick +, both the Altima and Maxima were rated top performers in IIHS pedestrian crash prevention testing.


Shop the 2020 Nissan Altima and 2020 Nissan Maxima today!