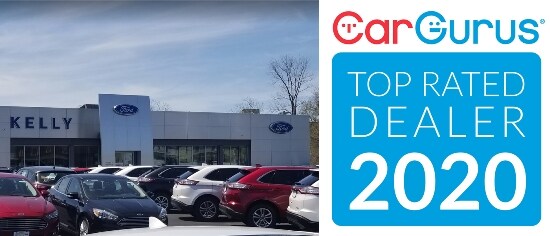 Kelly Ford recently announced that it has received the honor of being named a 2020 CarGurus Top Dealer Rater. The CarGurus Top Rated Dealer awards are given to dealerships that have received the highest average review ratings from shoppers who have submitted reviews on the CarGurus platform. CarGurus also uses verified dealership ratings along with other factors such as pricing analytics to help shoppers search for a great deal on a vehicle.

"We are thrilled to recognize Kelly Ford as a 2020 Top Rated Dealer," said Ashley Karr, Vice President of B2B Marketing at CarGurus. "Customer reviews are at the core of CarGurus' transparent shopping experience, and it part of why shoppers have come to trust us. The Top Rated Dealer program gives dealerships like Kelly Ford the opportunity to showcase their customer service excellence, and we applaud their high standards."

"Kelly Ford believes that providing excellent customer service is central to our business, and we are honored to be named a CarGurus Top Rated Dealer in 2020," said General Manager, Adam Hoyt. We look forward to maintaining and developing trusted relationships with both our current and future customers, and we will strive to provide this same level of excellence in years to come."

In 2015, President and CEO, Brian Kelly of the Kelly Automotive Group, added a Ford dealership to the group, acquiring the former Thomas Ford dealership and turning it into Kelly Ford located at 420 Cabot St. in Beverly, MA. The dealership adds another dimension to the dealer group, offering the latest Ford cars, SUV's trucks, and more.